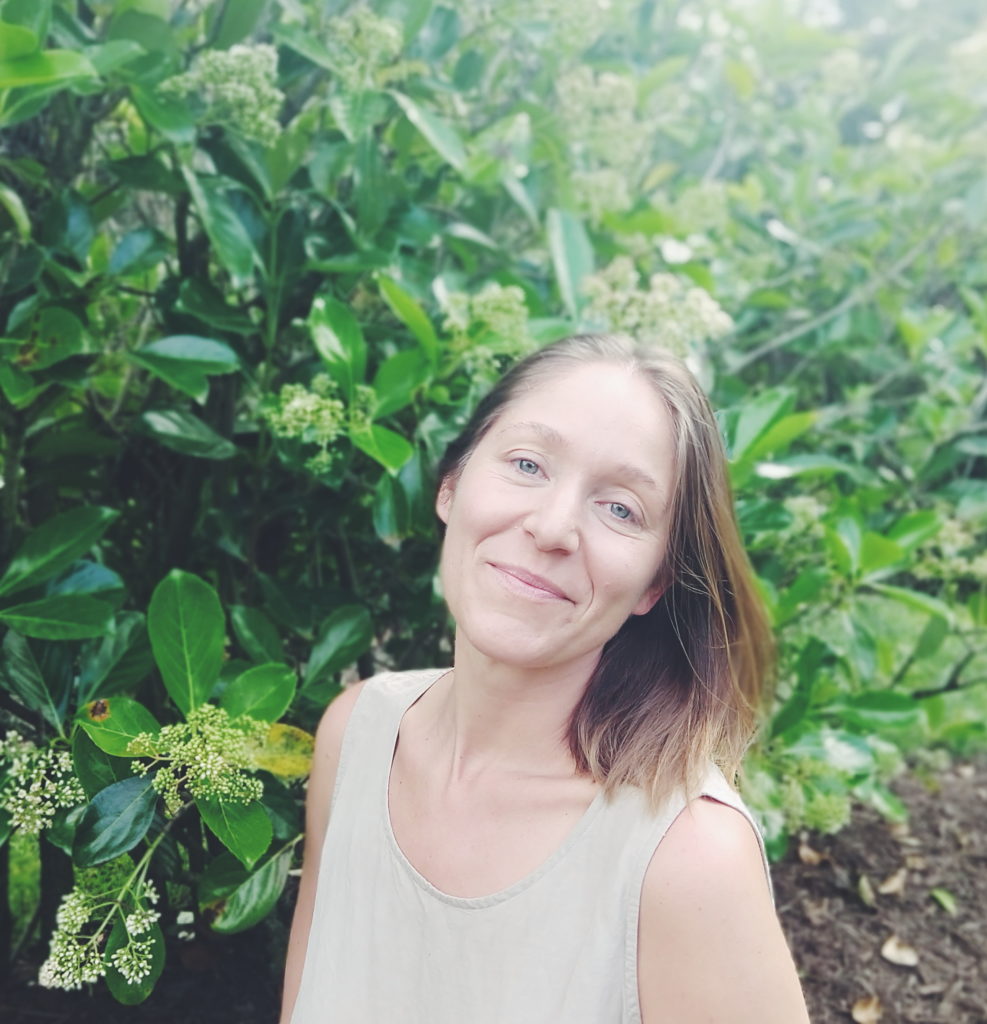 Bio
Emily attended her first yoga class at the age of six and spent some formative years living in ashrams in India and Portland. These experiences of being surrounded by people on the yogic path have colored her life. While she dabbled in asana throughout the years, it was not until almost fifteen years later that she developed a regular practice. She began taking Power Yoga as a means for physical exercise, but it soon became clear that yoga was so much more than a workout. She began to notice the way the body could align with breath and mind to create a sense of connectedness that felt like home. In college she began to study the ancient yogic philosophies and guidelines (The Eight Limbs of Yoga). After completing a Peace Corps service Emily attended a yoga teacher training in Brazil and received her 200-hour Yoga Alliance Certificate from Find Balance Yoga in March 2011. Since then she has been teaching in Oregon. Emily lives in Corbett, where she homesteads and raises two children. She continues to learn from a variety of teachers and find inspiration from the yogic path.
Teaching Style: Chandravali Yoga
Emily teaches alignment-based Vinyasa. Vinyasa is defined as "breath-synchronized movement," which can mean flowing rather quickly between postures; however, Emily's classes have a strong alignment component, so there is a lot of emphasis placed on pausing to fine-tune postures to best serve individual bodies. These poses are an excuse to become curious not only about how your body moves, but about your own internal reactions to what is happening. Your practice on the mat should serve to guide your life off the mat, whether that is finding strength, balance, and flexibility, or in becoming more present and observant of your thoughts. Emily weaves pranayama (breath work), meditation, singing, mudra (hand gestures), and yogic philosophy and mythology into her classes. Inspiration is taken from other styles of yoga, including Yin, Restorative, Primal, and Iyengar, as well as the natural cycle of our seasons.
---
Current Course(s)
Currently none
No Events
---
Class Description and Fees

Classes are 75-minutes long to incorporate introductory meditation/singing/pranayama, a completeasana practice, and a Sivasana (final relaxation). Please bring a yoga mat, water bottle, and your own props if you use them (not necessary). Expect to get your blood pumping, while also focusing on breath, awareness, and relaxation. This is a mixed-level, mixed-age class, with variations offered for beginners and advanced students. Everyone is encouraged to honor their own needs, and it is totally fine to spend the entire class in child's pose. Our yoga sangha (community) is a place of acceptance and encouragement.
$13/drop-in (suggested donation) $50/5-class card Private lessons also available. Contact for pricing.

---
Contact Emily